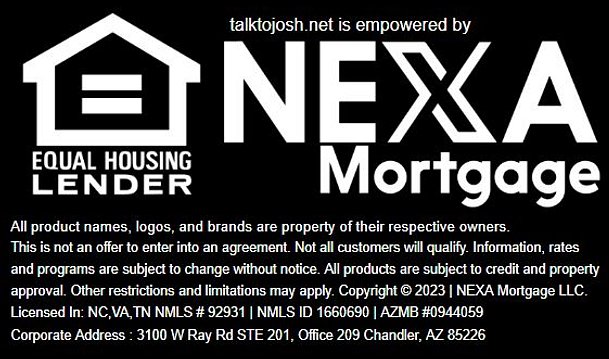 Joshua McDowell Mortgage Consultant NMLS# 2058562
empowered by NEXA Mortgage, LLC NMLS# 1660690
also empowered by EXP Realty / BROKER 348426
Thank you for reaching out to talk to me. I love talking to people so much that I started an organization in 2006 called aplacetotalk. I grew up around the Real Estate business as my mother was a local Realtor and I first learned the mortgage business in 1990's. I'm in the mortgage business today because I sincerely believe that the most efficient path to financial independence today has home ownership at its core. I also enjoy helping people upgrade their home or become owners for the first time. Real Estate is the only product that I know of that caps your biggest expense against inflation and turns your biggest expense into an investment. In August of 2023 I added my Real Estate License, as an investor I wanted to be able to call on vacant and distressed properties both on and off the MLS. So my business is mortgage but I'm legally able to serve as a licensed Real Estate agent when that's appropriate as well.
Housing is the biggest expense you'll have for the majority of your life.
Homeowners have fixed housing costs. Where rents are subject to inflation.
Homeowners also turn their biggest monthly expense into an investment.